Wage Index External Values
---
Select a tab to toggle between S-3 Part II, IV, and V. Once external values are entered in appropriate fields, external values must be saved by navigating to the save button at the bottom of the interface before clicking Mark External Values Complete to complete this stage.
If a Source Document has been uploaded, this document can be linked to a specific line by clicking the Select Document button

and then choosing the source document from the pop-up.
Pre-Populated Values
---
Absolute has been designed to pull and populate necessary data from other data sources uploaded into Absolute to ensure accuracy and achieve automation. In the case of Wage Index, Absolute will populate the appropriate dollars and hours in the Wage Index Workpaper excel export by utilizing the Payroll Mappings to report dollars and hours on the appropriate line. The mappings can be reviewed in the workpaper excel export on the tab titled WI.A_Summary by Acct. The following S-3 Part II lines are not available for external value input in Absolute, since these are automatically calculated by Absolute, using the uploaded payroll detail:
Line 1 Total Salaries
Line 10 Excluded area Salaries
Line 26 Employee Benefits Department
Line 27 Administration & General
Line 29 Maintenance & Repairs
Line 32 Housekeeping
Line 34 Dietary
Line 36 Cafeteria
Line 38 Nursing Administration
Line 40 Pharmacy
Line 41 Medical Records & Medical Records Library
These values will populate in the wage index workpaper for review.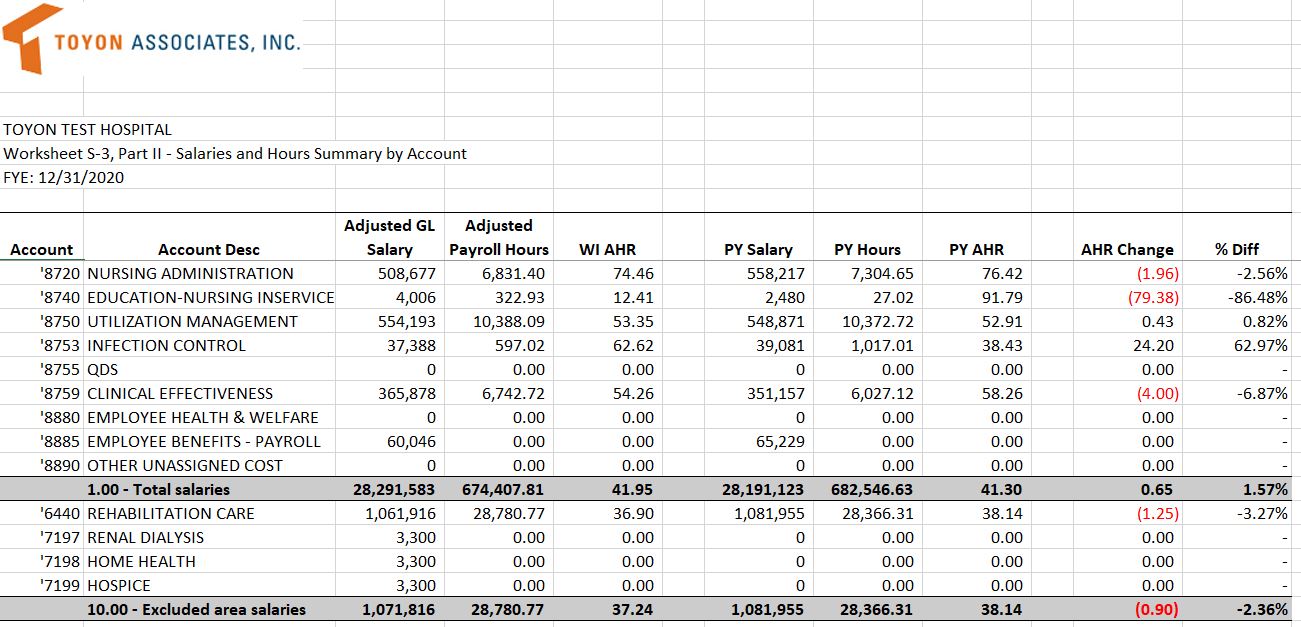 More Resources
For more information on the mechanics of external values, please see the following article: External Values